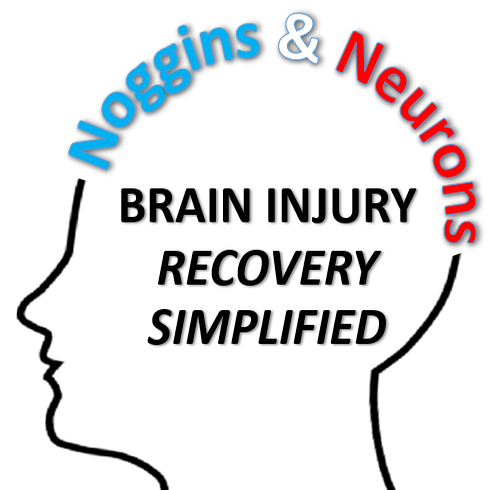 The N&N Review:
What We've Learned and Where We're Going
Noggins And Neurons Facebook Group
Pete and Deb started off with a little silliness before moving on to talk about Noggins And Neurons podcast stats...
DEB: ...So I did look up downloads before we reconvened here tonight and we're over 5,500...so, it's saying something, I'm just not sure exactly what it's saying and some day I hope to know
PETE: It's like reading tea leaves. So, what is today's episode about?
DEB: Today's episode is...I love the name that you called it....it's sort of a State of the Union episode because we have over 5,000 downloads, we've...how many episodes did we make so far? We've got 22 or 23 out there?
PETE: I think it's 22. I could be wrong...
DEB: You're probably right...We're gonna talk about whatever the state of this union is.
PETE: I think you're right, it's 23....
DEB: And we have 122 followers. I think those are the people that have taken the time to follow us through Podbean.
PETE: So maybe that's a good place to start. We have no idea what any of these numbers mean. We don't even know if the download is only through Podbean's site or through all sites. Isn't that correct? We don't know that, right?
DEB: Yeah, I don't understand the back end of this thing.
EPISODE SUMMARY: In this episode of NOGGINS & NEURONS: Stroke and TBI Recovery Simplified, Pete and Deb talk about the podcast data and speculate on what it means. We highlight information from previous episodes and:
Try to determine what the topic download numbers mean. We speculate that therapists want to learn more about specific interventions, are curious about what other OT's are doing and likely aren't interested in common clinical concerns such as fall prevention.
Wonder why there were fewer listens to the episode with Super Survivor Kathy Spencer. Pete suggests that we can all learn from Kathy and other survivors who are doing well.
Share our viewpoints about reasons for intervention episodes having high interest.
Talked about our favorite episodes and why.
Enjoyed re-visiting important points already made while adding new thoughts.
We hope you enjoy this review and would love to hear from you! You can share information about who you are, your interest in stroke and brain injury and whatever else you think is relevant!
Questions and Comments about the podcast?
Donate to The Noggins And Neurons Podcast: Venmo @neurons
Pete's blog, book, Stronger After Stroke, and talks.
Music by scottholmesmusic.com