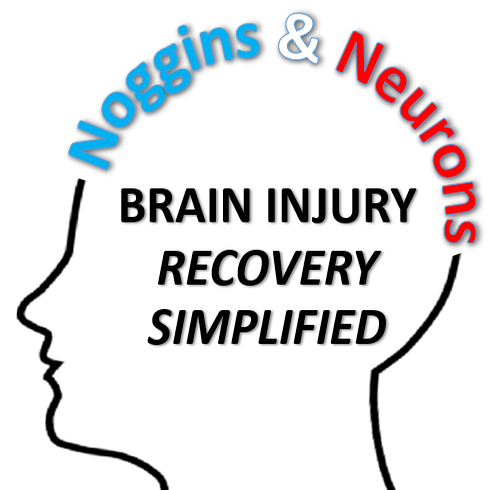 ✨Google Podcasts  ✨iTunes    ✨Spotify
JOIN THE NOGGINS AND NEURONS FACEBOOK GROUP
EPISODE TITLE: Medication Management Part 1
OVERVIEW:
Haleigh: "I think it is important too, to see what patients actually value doing within medication management and then starting from there." This episode is a conversation between two OTRs and two soon-to-be new grad OTs. The topic of conversation is about medication management and how to adapt this occupation for patients.
EPISODE SUMMARY: In this episode of NOGGINS & NEURONS: Medication Management Part 1 with Tracy Bentley Root, Haleigh Bjorkman, and Anna Kotansky, we talked about:
What is Medication Management?
What are common burdens related to medication management?
How are caregivers affected by the burdens of medication management?
What is Occupational Therapy's role in medication management?
Summation statement:
The job of medication management can be extremely stressful for both the patient and the caregivers. Health professionals, such as nurses and occupational therapists, have an important role in the health care system to assist caregivers with the many responsibilities within medication management. In this episode, we acknowledge the challenges of medication management and discuss how occupational therapy practitioners have such an important role in reducing the stress for patients and caregivers. Tune into the second part of this podcast with Tracy, Haleigh, and Anna to learn more about techniques and assistive technology devices that can assist with medication management.
LINKS TO ARTICLES, BOOKS AND OTHER IMPORTANT INFORMATION:
Articles discussed during the podcast:
Siebert, C., Schwartz, J., & Kannenberg, K. (2017). Occupational therapy's role in medication management. American Journal of Occupational Therapy, 71, 1–20. https://doi-org.dyc.idm.oclc.org/10.5014/ajot.2017.716S02
Appalasamy, J. R., Joseph, J. P., Ramaiah, S. S., Quek, K. F., Zain, A. Z. M., & Tha, K. K. (2020). Exploring stroke survivors' self-efficacy in understanding and taking medication and determining associated factors: a cross-sectional study in a neurology clinic in Malaysia. Patient Preference and Adherence, 1463c. https://doi-org.dyc.idm.oclc.org/10.2147/PPA.S215271
Polenick, C. A., Stanz, S. D., Leggett, A. N., Maust, D. T., Hodgson, N. A., & Kales, H. C. (2020). Stressors and resources related to medication management: Associations with spousal caregivers' role overload. Gerontologist, 60(1), 165–173. https://doi-org.dyc.idm.oclc.org/10.1093/geront/gny130
Appalasamy, J. R., Tha, K. K., Quek, K. F., Ramaiah, S. S., Joseph, J. P., & Md Zain, A. Z. (2018). The effectiveness of culturally tailored video narratives on medication understanding and use self-efficacy among stroke patients: a randomized controlled trial study protocol. Medicine, 97(22), e10876. https://doi-org.dyc.idm.oclc.org/10.1097/MD.0000000000010876
Kollerup, M. G., Curtis, T., & Schantz Laursen, B. (2018). Visiting nurses' posthospital medication management in home health care: An ethnographic study. Scandinavian Journal of Caring Sciences, 32(1), 222–232. https://doi-org.dyc.idm.oclc.org/10.1111/scs.12451
Connect with Anna: https://www.linkedin.com/in/anna-kotansky-7005b11a6/
Connect with Haleigh: https://www.linkedin.com/in/haleighbjorkman/
As always, we want to hear from you! Questions and Comments about the podcast: NogginsAndNeurons@gmail.com
If you enjoy listening, please share with others who you think would benefit. Also, consider donating to NOGGINS & NEURONS. You can do this is 2 ways:
Using your PayPal app
RESOURCES:
Information about Pete's blog and book, "Stronger After Stroke: Your Roadmap to Recovery" 3rd edition:
Deb's OT Resources:
REQUEST TO BE A GUEST ON NOGGINS & NEURONS. If you're passionate about stroke recovery and have information or a story you believe will help others, we'd love help you share it on the show. Complete the guest request form below and let's see if we're a good fit!   Guest Request Form
MUSIC:
"Soft Inspiration" by Scott Holmes/Scott Holmes Music/scottholmesmusic.com