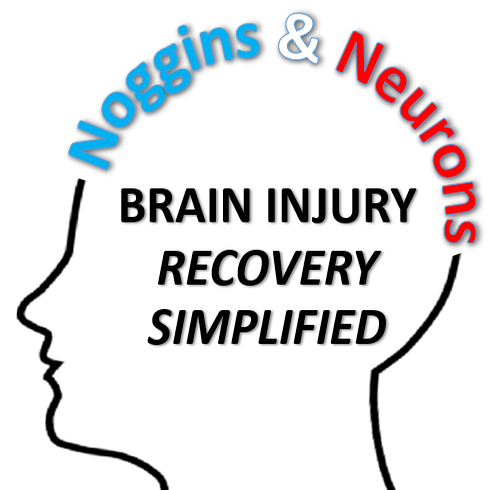 Learn more about low, medium and high tech OT interventions used by The Neuro Hub in stroke recovery.
OVERVIEW
Doro: That was the neat thing. This one client that had this really big change did nothing else. She just did her little exercises at home…
Lynette: Right
Doro: But no therapy with us or in other facilities. Nothing.
Lynette: She did her basic home program, just to maintain what she already had what she had already been doing…umm…but yeah, it really made a huge impact for her.
Deb: Was this a home program that she already had received prior to coming to you?
Lynette: Yes. She had been doing this home program for a while. Even with us, when we doing OT with her prior to doing BCI, she was doing this home program.
Deb: Hmmm
Doro (Dorothee) Zuleger, OTR/L, CBIS, CSRS, DRS and Lynette Diaz, COTA/L, CSRS, from The Neuro Hub, Orlando/Altamonte Springs, FL join Noggins And Neurons for another enlightening conversation. In this episode we talk about:
The Low Tech Interventions they use, including the Upper Extremity Ranger, Saebo Glove and paddle board
The Neofect Suite and how incorporating gaming elicits meaning and competition to promote interest as a Medium level technology intervention
The RecoverIx Brain-Computer Interface, a High tech intervention – Doro and Lynette cover everything, from how to set it up, get started and client requirements to outcomes; this is one way to get the required (high) number of reps per session
Home programs are not recommended during BCI treatment
Allowing clients to use the RecoverIx system when not recommended by the company – clinical reasoning and knowing when to push the boundaries
Neuroplastic change and success for clients with severe impairments
Spasticity reduction, inability to move, participate in Box and Blocks Test and low scores on the Fugl-Myer
Business and clinical impact of introducing the BCI
Therapy Intensives at The Neuro Hub, fundamentals for recovery and client results
We hope you find this episode useful and that it increases your understanding of technology in stroke recovery.
As always, we want to hear your top takeaways! Please email us at NogginsAndNeurons@gmail.com. 
LINKS TO ARTICLES, BOOKS AND OTHER IMPORTANT INFORMATION:
Science Direct Brain Computer Interface
The Stroop Color and Word Test
Cho, W., Sabathiel, N., Ortner, R., Lechner, A., Irimia, D. C., Allison, B. Z., Edlinger, G., & Guger, C. (2016). Paired Associative Stimulation Using Brain-Computer Interfaces for Stroke Rehabilitation: A Pilot Study. European journal of translational myology, 26(3), 6132. https://doi.org/10.4081/ejtm.2016.6132
Kim, T., Kim, S., & Lee, B. (2016). Effects of Action Observational Training Plus Brain-Computer Interface-Based Functional Electrical Stimulation on Paretic Arm Motor Recovery in Patient with Stroke: A Randomized Controlled Trial. Occupational therapy international, 23(1), 39–47. https://doi.org/10.1002/oti.1403
Motor Imagery Practice and Cognitive Processes
Questions and Comments about the podcast?
Donate to The Noggins And Neurons Podcast with Venmo or PayPal:
Use your PayPal app - add the note NEURONS under donation amount
Pete's blog, book, Stronger After Stroke, and talks.
Music by scottholmesmusic.com