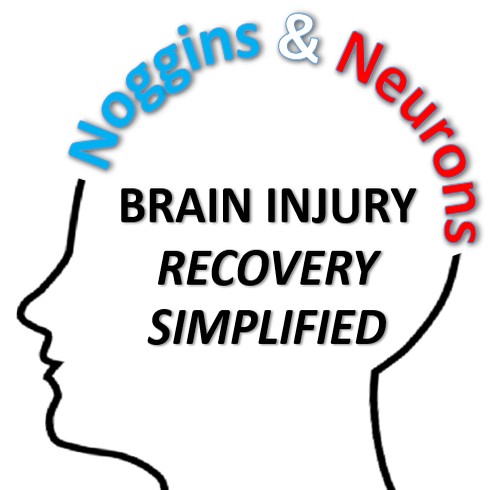 Subluxation and Shoulder Pain
"And my problem with taping generally is, it's kind of band-aidy because as soon as you take it off the arm could fall right back out. However, if you could get that to reduce pain and then have them do stuff, which then activates the SITS muscles and the deltoid and it brings that humerus back into where it needs to go, in the meantime because they are doing stuff...they're driving cortical change, which reduces spasticity, which may indicate more movement and now we get this upward spiral of recovery that could be quite helpful. So taping may be a temporary thing but it might be a good temporary thing."
EPISODE SUMMARY: This episode of NOGGINS & NEURONS: Stroke and TBI Recovery Simplified covers subluxation and pain. In this episode we learn:
That moving the hand engages the shoulder and the muscles that reduce subluxation
The proximal to distal arm recovery notion is a myth
That approximately 80% of stroke survivors experience shoulder subluxation
The importance of proper arm positioning to prevent shoulder subluxation and soft tissue damage
Pete's and Deb's opinions of overhead pulley use by stroke survivors - again
Ways to measure subluxation
About treatment strategies for supporting the shoulder, improving subluxation and reducing pain
Join Pete and Deb as we talk about subluxation statistics, how to prevent shoulder subluxation and/or soft tissue damage and the importance of safely moving a hemi-paretic shoulder. We discuss several braces that are commonly used to support the shoulder as well as common challenges experienced when donning and doffing them.  We also cover e-stim, NMES, functional e-stim, TENS, stretching, and taping as effective methods for addressing subluxation. We learned that brain controlled interfacing (BCI) with e-stim (which incorporates action observation and motor imagery) results in greater improvements in reducing subluxation and pain, than when functional e-stim is used alone.
As always, we want to hear your top takeaways!
LINKS TO ARTICLES, BOOKS AND OTHER IMPORTANT INFORMATION:
Comley-White, N., Mudzi, W., & Musenge, E. (2018). Effects of shoulder strapping in patients with stroke: A randomized control trial. South African Journal of Physiotherapy, 1-11. ISSN. (Online) 2410-8219, (Print) 0379-6175.
Hartwig, M., Gelbrich, G., & Griewing, B. (2012). Functional orthosis in shoulder joint subluxation after ischaemic brain stroke to avoid post hemiplegic shoulder-hand syndrome: a randomized clinical trial. Clinical Rehabilitation 26 (9) 807-816. DOI: 10.1177/0269215511432355 cre.sagepub.com
Jang, Y., Kim, T., Lee, B. (2016). Effects of brain–computer interface-controlled functional electrical stimulation training on shoulder subluxation for patients with stroke: A randomized controlled trial. Occupational Therapy International, 23(2), 175–185. https://doi.org/10.1002/oti.1422
Chatterjee, S., Hayner, K., Arumugam, N., Goyal, M., Midha, D., Arora, A. (2016). The California tri-pull taping method in the treatment of shoulder subluxation after stroke: A randomized clinical trial. North American Journal of Medical Sciences (8)4
Kate Hayner's Calif Tri Pull Taping Method video
Where electrodes should be placed for NMES and subluxation
Products to help subluxation and shoulder pain:
Research:
A randomized controlled trial on the immediate and long-term effects of arm slings on shoulder subluxation in stroke patients
Effect of arm sling application on gait and balance in patients with post-stroke hemiplegia: a systematic review and meta-analysis
Questions and Comments about the podcast: NogginsAndNeurons@gmail.com
DONATE TO NOGGINS & NEURONS:
Donate to Noggins And Neurons and get an Allstar Pete Trading Card
Using your PayPal app:
RESOURCES:
Pete's blog, book, Stronger After Stroke, and talks.
Deb's OT Resources:
REQUEST TO BE A GUEST ON NOGGINS & NEURONS. If you're passionate about stroke recovery and have information or a story you believe will help others, we'd love help you share it on the show. Complete the guest request form below and let's see if we're a good fit!   Guest Request Form
MUSIC:
"Soft Inspiration" by Scott Holmes/Scott Holmes Music/scottholmesmusic.com