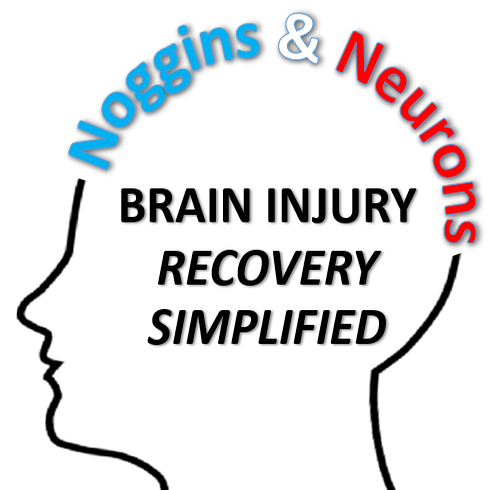 Research for Recovery
OVERVIEW: "So here's a little fun fact: In a lot of these articles the contact information for the researchers is made available. And I have been known to reach out to researchers over the course of my career and they do respond to me and oftentimes they're very happy—very happy—to share their information and some of their PowerPoint slides and stuff that will help you in your practice. It goes back to what you were saying in the beginning. Researchers want us using their information." 
EPISODE SUMMARY: This episode of NOGGINS & NEURONS: Stroke and TBI Recovery Simplified gets into research for recovery. We talk about research in terms that everybody can understand. In this episode we talk about:
What to look for when starting off on a research path
Systematic Reviews & Meta-Analyses as a good sign that your topic is well investigated
The history about how to discern evidence-based practice – good for clinicians who engage in patient-driven care as well as survivors and caregivers for assessing the care received
Reasons to be evidence-based...because it's fun and satisfies one's rebellious nature? – Why, YES!

Detailed information to guide researchers. NOTE: anyone who wants to know about the evidence is a researcher – survivors, caregivers, students and clinicians...

Where to start to your research journey
More...
To help offset fears and symptoms of research, Pete and Deb discuss their personal investigative styles that make research fun for them! Neither one experiences migraines or nausea whenever engaging in this exciting aspect of their work and don't think you should either...Pete goes into history around evidence-based medicine and speaks from his research background while Deb talks from her clinical and teaching experiences. We hope you find great value in both the conversation and the show notes. HINT: There's more in the notes than we talked about during our time together.
Pete and Deb agree that applying evidence to practice is essential for optimal recovery outcomes following stroke and TBI. We understand that knowing where, how and why can be challenging and cause procrastination, which is the reason for covering this much needed topic. We hope this RESEARCH FOR RECOVERY episode helps steer you in a right direction as you take the next step, whatever the reason for investigating stroke and TBI recovery.
As always, we want to hear your top takeaways!
LINKS TO ARTICLES, BOOKS AND OTHER IMPORTANT INFORMATION:
Evidence Pyramid: There are many available online. This link highlights the EBM Pyramid used by

University of California Irvin

e. It includes information about the TRIP database that I learned about through

net

, a good resource.

TRIP Medical Database

– free and premium access to medical information/journal articles
Knowledge Translation for Disability and Rehabilitation Research (KTDRR) Website –

org

– "The purpose of the Center on Knowledge Translation for Disability and Rehabilitation Research (KTDRR) is to make it easier to find, understand, and use the results of research that can make a positive impact on the lives of people with disabilities." (ktdrr.org, 2021)
ResearchMatch helps match volunteers researchers and their studies at institutions across the country.
NIH-sponsored clinical trials that are currently accepting participants.
The National Institutes of Health (NIH) Clinical Center Search the Studies site 
Find clinical trials from around the world.
The number of medical articles published  per year 
Find all of the following under "RESEARCHING" in the middle of the web page:
Evidence-based review of stroke rehabilitation
StrokEngine: Tons of info for therapists and survivors
PubMed Central: Free Journal Articles (NIH)
MedlinePlus Simple and Free bottom line reviews
Bookshelf: free online books and docs (NIH)
Cochrane Database of Systematic Reviews
Bio med central free open-access articles
TRIP Database: a smart, fast tool to find high quality clinical research evidence
Hindawi Free Access to Journals
Directory of Open Access Journals (DOAJ)
CONNECT WITH US:
Questions and Comments about the podcast:
Information about Pete's blog, book, Stronger After Stroke,  and  talks.
MUSIC
 Music by scottholmesmusic.com