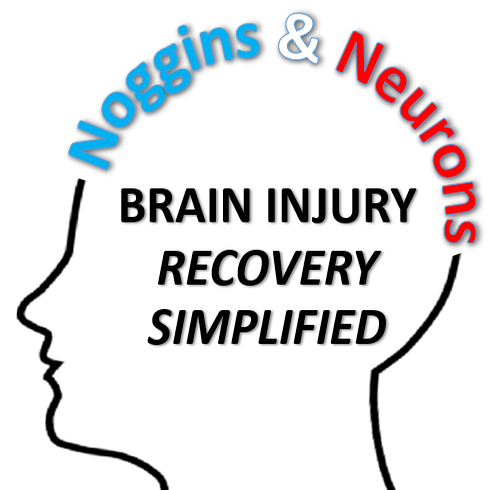 Pete & Deb Review Teasell's Insights
Noggins And Neurons Facebook Group: CLICK HERE or scan below!
DEB: Dr. Teasell said that the reasons that therapists have for not doing these things...so they include not having enough time, being busy...and I understand all of this. I do, because I've been in those shoes...all of those reasons...he said that they're legit. And I think that whatever our reasons are, whoever we are, I think they're legit to a degree. I think that we need to start empowering ourselves to take some steps and try new things. I just think it's important to have a culture of listening and kindness. Be compassionate with each other and then that way you're going to advance your clinical outcomes, you'll advance your practice setting. In trying to implement something new and doing new things, it's become very apparent to me that we really are limited by our own weaknesses.
EPISODE SUMMARY: In this episode of NOGGINS & NEURONS: Stroke and TBI Recovery Simplified, Pete & Deb share thoughts about our conversation with Dr. Robert Teasell and Marcus Saikaley of the Evidence-Based Review of Stroke Rehabilitation (EBRSR). In this episode we talk about:
Our general feelings about the interview – Deb enjoyed being a part of the conversation and learning about opportunities. Pete was excited about the brain primers and moving beyond old school interventions.
Our thoughts on disability, the government, listening to patients, trust and advocacy.
Research, policy change, the brain and passion in practice.
The vast amount of stroke research and the three big messages:

Earlier is better (too much too soon can make infarct worse)
Intensity matters
Task specificity

Bobath strategies take longer to work.
Distrust among healthcare workers towards patients, being more trusting as a provider and collaborating.
Listener question: why therapists are afraid to try new things and push patients harder.
Opportunities to improve outcomes beyond standardized care using adjunct therapies are critical to the future-moving beyond cultural beliefs and sideways glances.
Pete's tips for navigating change and stepping into leadership.
Therapist belief systems don't belong in the clinic when they conflict with research.
Growth mindset, kindness and compassion belong in the clinic.
Certifications, creativity and translating the research in clinical practice.
Pete's thoughts about why there is so much focus on the upper extremity.
As always, we want to hear your top takeaways...Please email us or post in the Noggins And Neurons Facebook group!
Questions and Comments about the podcast?
Donate to The Noggins And Neurons Podcast with your PayPal app:
Pete's blog, book, Stronger After Stroke, and talks.
Deb's OT Resources:
REQUEST TO BE A GUEST ON NOGGINS & NEURONS. If you're passionate about stroke recovery and have information or a story you believe will help others, we'd love help you share it on the show. Complete the guest request form below and let's see if we're a good fit!   Guest Request Form
MUSIC:
"Soft Inspiration" by Scott Holmes/Scott Holmes Music/scottholmesmusic.com