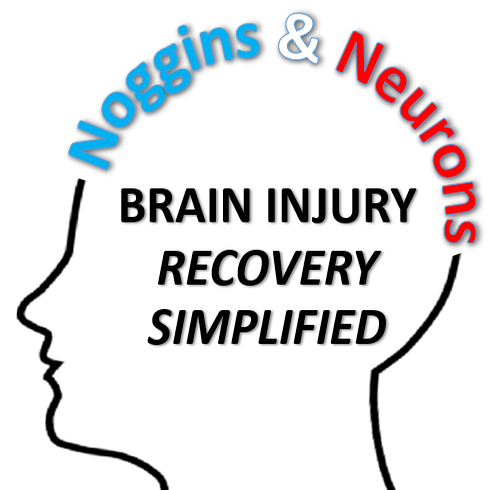 OVERVIEW: "This episode was largely geared towards the survivors at home...once they're at home doing this and some very simple strategies for how to do it and I LOVE the video recording piece. I know some people are shy and afraid to look at themselves on camera but you don't have to show it to anybody...You know...And the people that love you won't care any way. They will be happy to see your progress..."
EPISODE SUMMARY: This episode of NOGGINS & NEURONS: Stroke and TBI Recovery Simplified is all about ways to measure change along the recovery journey. There are different reasons for measuring from insurance reimbursement to deciding how long a person remains on a skilled therapy program to just wanting to know if what's being done is working. Pete does most of the talking in this episode (and Deb is fine with that – she's an introvert at heart and sometimes, when she's learning, thinking makes her happy).  Keep listening for more great information as we:
Explain reasons for taking measurements
Discuss the difference between validity and reliability
Explain aphasia and dysarthria and ways to measure changes in the motor aspects of speech
Talk about the importance of standardizing measurements
Review simple ways for survivors to measure change at home, starting with a baseline and maintaining consistency over time.
Learn what it means when there's no change in measurements and what to do when that happens. Hint: It's not time to quit!
Delve into some interesting history about  Signe Brunnström, and Axl Fugl-Meyer
Join us as we start the conversation with reasons for taking measurements. The conversation takes a quick turn as we talk about a simple strategy – using time to establish baseline measurements and progress for walking, while also being mindful of safety. Pete introduces "self selected walking speed" and use of assistive devices and tells us how to be consistent over time. Other activities that can be measured with time include buttoning, zipping and putting a jacket on/taking it off. Quality of movement, fatigue and other factors also need to be taken into consideration when tracking change. It is important to note that it's not time to quit when it looks like there's a plateau as Pete reminds us to think like an athlete or musician when this occurs.
We learn about the vast respect Pete has for  Signe Brunnström as he digs deep into history and explains the genius scoring she developed (that was later credited by name to Axl Fugl-Meyer) which has become the gold standard in outcome measures for people who've had stroke.
As always, we want to hear your top takeaways!
LINKS TO ARTICLES, BOOKS AND OTHER IMPORTANT INFORMATION:
CONNECT WITH US:
Questions and Comments about the podcast: NogginsAndNeurons@gmail.com
DONATE TO NOGGINS & NEURONS:
Donate to Noggins And Neurons and get an Allstar Pete Trading Card
Using your PayPal app:
RESOURCES:
Information about Pete's blog and book, "Stronger After Stroke: Your Roadmap to Recovery" 3rd edition:

REQUEST TO BE A GUEST ON NOGGINS & NEURONS. If you're passionate about stroke recovery and have information or a story you believe will help others, we'd love help you share it on the show. Complete the guest request form below and let's see if we're a good fit!   Guest Request Form
MUSIC
"Soft Inspiration" by Scott Holmes/ Scott Holmes Music scottholmesmusic.com
✨Google Podcasts  ✨iTunes    ✨Spotify