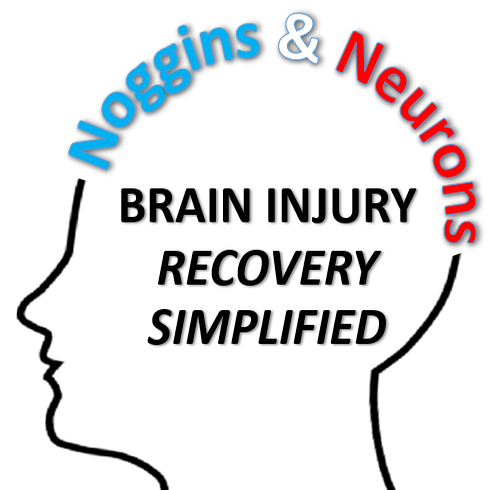 Mary Warren: Vision and Brain Injury. Part I 
Noggins And Neurons Facebook Group: CLICK HERE or scan below!
WARREN: They are very concerned about falling and running into something. If you have a hemianopia you're going to have some collusions right off the bat. And they walk very slowly or they do a thing where they stare straight ahead and just walk towards a target and hope they make it. These are dangerous types of things and you can't get away with them when you're in dynamic environments; they don't keep you safe. So the person tends to avoid dynamic environments and won't go outside the house then, because of the way they're moving. So we...the big culprit for that....I gues that takes me off in a different direction that's a very interesting thing that the brain does is that when we're scanning our environment, when we're finding things, we don't go from object to object to build a visual scene. Instead what our frontal lobes do is they sample the visual scene and then they perceptually complete it based on past experience with this environment and expectations of what you should see and by doing that the frontal lobes allow us to process information very rapidly and move through environments that are very dynamic, like driving environments. What was discovered about hemianopia and the first research was published in the 1960's, is that person's with hemianopia where fifty percent of their vision is missing, actually exercise perceptual completion. So when you first experience a hemianopia, even though you're missing fifty percent of your vision, you feel like you see everything. You have a completed visual field in front of you, you don't have a border that tells you exactly where you have vision and where you don't have vision. There's no black curtain there, there's nothing to tell you when you are getting into your blind field or how far you should go into the blind field.
EPISODE SUMMARY: This episode of NOGGINS & NEURONS: Stroke and TBI Recovery Simplified is Part I of our conversation with vision expert, Dr. Mary Warren. In this episode we learn about:
Warren's professional path into vision - vision and driving rehab, brain injury recovery, her development of the Visual Perceptual Hierarchy
Statistical information about vision deficits following stroke or brain injury:

50-90% experience ocular motor problems
50-70% experience difficulty using the eyes together
Visual field changes – about 50%
Acuity – 25%
Visual attention (neglect) – 70% (immediately following right middle cerebral artery stroke

Vision impairment and hidden disability
Vision impairment may cause changes in motor and cognitive behavior, masking vision as the underlying problem
The difference between neglect and hemianopia and gaze preference as an early sign of neglect
Vision deficits that respond to rehab, perspectives of ophthalmology and optometry and evidence for interventions
The difference between restorative and compensatory measures in vision recovery following stroke and brain injury
Client who has hemianopia can have recovery success (driving, reading, overall quality of life) IF they get the right therapeutic interventions (and it doesn't require a lot)
Common problems experienced by people with hemianopia include reading and mobility challenges due to decreased field of view. Therapy can help. Without therapeutic intervention people often:

Quit reading due to difficulty finding the words, slowness and fatigue
Stop leaving the house because dynamic environments become frightening

Dynavision and other light boards to help improve vision and cognition deficits
Free vision training programs for people with hemianopia
We hope you feel as inspired as we do after listening to this episode on vision.
As always, we want to hear your top takeaways!
LINKS TO ARTICLES, BOOKS AND OTHER IMPORTANT INFORMATION:
DREX Durham Reading & Exploration Training
A Hierarchical Model for Evaluation and Treatment of Visual Perceptual Dysfunction in Adult Acquired Brain Injury, Part 1
A Hierarchical Model for Evaluation and Treatment of Visual Perceptual Dysfunction in Adult Acquired Brain Injury, Part 2
Questions and Comments about the podcast?
Donate to The Noggins And Neurons Podcast with Venmo or PayPal:
Venmo @neurons
Use the PayPal app  (appears as Creative Concepts OT - add the note NEURONS under donation amount)
Pete's blog, book, Stronger After Stroke, and talks.
Music by scottholmesmusic.com