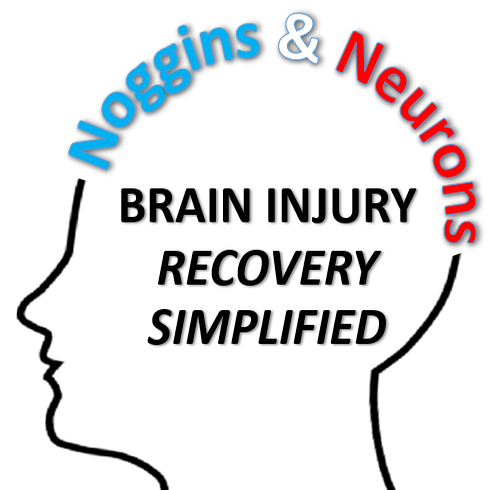 OVERVIEW: ...So hyper-acute, acute, subacute and chronic, those are the 4 phases...The way that you tell it's time to start is look for subacute, spontaneous recovery and then, once they plateau, after that you're not waiting for this easy ride of the brain coming back online...It's all neuroplastic change after that. You've got to borrow from some other part of the brain that's still intact and so then it becomes real learning....
EPISODE SUMMARY: In this first, full episode of NOGGINS & NEURONS: Stroke and TBI Recovery Simplified, Pete and Deb discuss the perplexing phenomenon of Learned Non-Use. This engaging conversation will help you understand:
How, when and why learned non-use it occurs
Common deficits and rehab approaches that contribute to learned non-use
An introduction to interventions and strategies to help thwart and reverse it
Join us as we start to unpack this fascinating topic. As you'll soon discover, learned non-use and other concepts that occur in and around stroke or acquired brain injury are inter-relational. As Pete eludes to in the podcast, no 2 strokes or brain injuries are the same. Our engaging conversation is a great foundational episode as we define stroke and brain injury, discuss the 4 phases of stroke, the concept of too much too soon and the sweet spot of the subacute phase. There are some interesting implications for everyone – from those who provide care at any level for survivors, occupational and physical therapy practitioners, to the survivor's and more. Please share your top takeaways!
LINKS TO ARTICLES, BOOKS AND OTHER IMPORTANT INFORMATION:
Learned Non-Use Article: Barth, J., Geed, S., Mitchell, A., Lum, P. S., Edwards, D. F., & Dromerick, A. W. (2020). Characterizing upper extremity motor behavior in the first week after stroke. PloS one

, 

15

(8), e0221668.

https://doi.org/10.1371/journal.pone.0221668
V S Ramachandran and his work with mirror therapy: http://cbc.ucsd.edu/ramabio.html  
The Brain That Changes Itself by Normal Doidge, MD https://www.penguinrandomhouse.com/books/291041/the-brain-that-changes-itself-by-norman-doidge-md/
Documentary – The Brain That Changes Itself https://www.youtube.com/watch?v=VIdWFuuZaxw
The Mind and the Brain: Neuroplasticity and the Power of Mental Force by Jeffrey Schwartz https://jeffreymschwartz.com/
The Brain Science Podcast - https://brainsciencepodcast.com/
CONNECT WITH US:
Questions and Comments about the podcast:
DONATE TO NOGGINS & NEURONS:
Donate to Noggins And Neurons and get an Allstar Pete Trading Card
Using your PayPal app:
RESOURCES:
Information about Pete's blog and book, "Stronger After Stroke: Your Roadmap to Recovery" 3rd edition:

REQUEST TO BE A GUEST ON NOGGINS & NEURONS. If you're passionate about stroke recovery and have information or a story you believe will help others, we'd love help you share it on the show. Complete the guest request form below and let's see if we're a good fit!   Guest Request Form
MUSIC
"Soft Inspiration" by Scott Holmes/Scott Holmes Music/scottholmesmusic.com