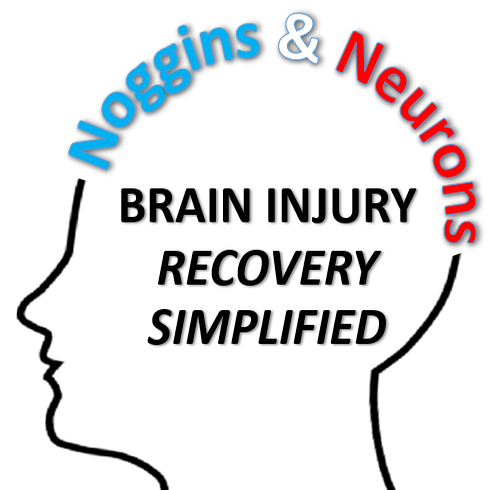 How Repetition Rules Recovery
OVERVIEW: "What we all want at the end of the day is better quality, fluid, coordinated movement. But sometimes we don't get there. I would suggest to therapists: Don't make the perfect the enemy of the good. We're not trying to make them perfect, we're just trying to get them better. And better is good.
So sometimes the beauty is not in the beauty but in the ugliness of the movement. Let it be ugly. Let it be sweaty. Look— if you don't think that this has value, here's what you need to do: Go to a music store and get yourself a viola, and let me know how that doesn't sound like a dozen doing cats for the next six months. 'Cause it's gonna! Take up golf! It's gonna be— it's not supposed to be beautiful. It's supposed to be ugly. You got to enjoy the stuff."
EPISODE SUMMARY: This episode of NOGGINS & NEURONS: Stroke and TBI Recovery Simplified explains the importance of repetition for regaining movement. We talk about:
Repetition and where it fits in the trifecta of brain rules
What getting better means
The number of repetitions required for a person to get better
Variables that impact motor recovery, including survivors age, area and size of infarct, medication use, survivor motivation and movement intricacies
Survivor and Clinician perceptions on intensity
Importance of leadership in supporting new protocol and program development
Pete and Deb discuss the real-world motor and physiological effects of stroke and how thoughts impact behaviors. Pete explains research that details the challenges around determining a specific number of repetitions survivors need to perform to get better. He stresses the importance of incorporating meaning into interventions.
We found great research that looks at survivor and therapist perceptions around intensity that should help everyone feel more comfortable and confident in developing rehab programs with appropriate intensity levels that facilitate functional change. 
As always, we want to hear your top takeaways!
LINKS TO ARTICLES, BOOKS AND OTHER IMPORTANT INFORMATION:
How many repetitions does it take to drive brain changes and movement changes in folks with brain injury/ stroke?
This study showed that there were similar outcomes under three dosages of repetitive practice...
There were four groups:
Group A (the control) received 3 hours of traditional therapy consisting of passive movement, therapeutic positioning, and weight bearing on the affected limb. Throughout study the score increased ~3 points for the Fugl-Meyer.
Group B: Modified constraint induced therapy consisting of 3 hours of shaping practice per day, and a constraint on 90% of all waking hours. Throughout study the score increased ~17 points for the Fugl-Meyer.
Group C: 300: repetitions per day, 5 days per week, increases across all outcomes (FM, MAL, WMFT, etc.) started at 2 weeks and the trajectory continued throughout the study. Throughout study the score increased ~17 points for the Fugl-Meyer.
Group D: Same as Group C, but double the number of repetitions. Throughout study the score increased ~19 points for the Fugl-Meyer.
CONNECT WITH US:
Questions and Comments about the podcast: NogginsAndNeurons@gmail.com
DONATE TO NOGGINS & NEURONS:
Donate to Noggins And Neurons and get an Allstar Pete Trading Card
Using your PayPal app:
RESOURCES:
Information about Pete's blog, book, "Stronger After Stroke: Your Roadmap to Recovery" 3rd edition,  and  talk.
Deb's OT Resources:
REQUEST TO BE A GUEST ON NOGGINS & NEURONS. If you're passionate about stroke recovery and have information or a story you believe will help others, we'd love help you share it on the show. Complete the guest request form below and let's see if we're a good fit!   Guest Request Form
MUSIC:
"Soft Inspiration" by Scott Holmes/Scott Holmes Music/scottholmesmusic.com