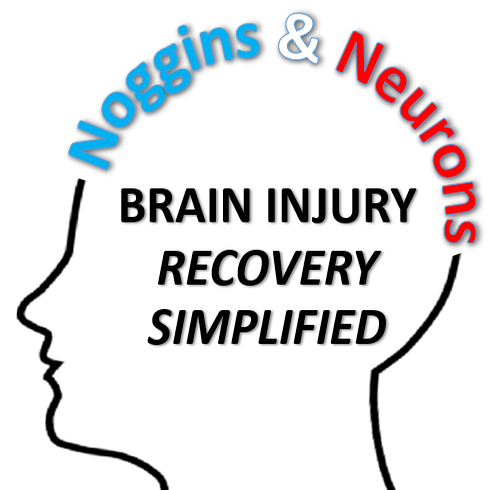 Heim, Drake, & Millar: Cerebellar Ataxia, PART 2
Noggins & Neurons Facebook Group: CLICK HERE or scan below!
OVERVIEW:
Stephen: Even as simple as cracking an egg, I cannot do it one handed, I can't do it 2-handed any more…so, I got on Amazon and if you put in 1-handed, a whole list of items comes up and I got an egg cracker that I can put the egg in and crack it with one hand. It's a device, a lot of people, including some very close to me have said, 'Oh that's just lazy.' Like I just say, google home so I can control my lights and or set an alarm with just using my voice and you know, I hear 'Oh get up and turn your lights off or turn your light off…' Well that is not easy for me to do and I'm not being lazy, I'm being efficient and that is how I have structured everything from the bathroom, from driving…efficiency.
EPISODE SUMMARY: In this episode of NOGGINS & NEURONS: Brain Injury Recovery Simplified, Pete and Deb continue our conversation with physical therapists Jennifer Millar and Meredith Drake from Johns Hopkins Ataxia Center in Baltimore, MD, and cerebellar stroke survivor Stephen Heim. We learn more:
Balance Weighted Torso Training – which uses a weighted vest to improve balance. While Stephen doesn't think it's a miracle cure, he did feel more stable with the vest on. Jennifer and Meredith explain it in more detail, also reminding us that limb weights are not effective in treating ataxia. Motiontherapeutics.com
Dysmetria, driving, vehicle modifications and driving rehab – Stephen describes his compensatory strategies for safe driving. The more he drives, the better he gets. Stephen reports he is able to listen to music and podcasts while he drives but he is not able to talk. Texas work force division assists with payment for some vehicle modifications.
Challenges with executive functions following stroke, despite testing showing no deficits. Stephen describes his real-world experience with cognitive functions and strategies he uses to compensate and make it successfully through the days.
Basic home tips and tricks are available on the ataxia.org website for a treasure trove of energy conservation techniques for people with ataxia. Using one-handed items and voice activation devices to conserve energy, stay safe and give oneself the space to progress towards other life goals following stroke – it's not laziness and we need to stop telling people they're lazy when in fact, they're open minded towards creating a better life for themselves.
Cognition tends to still be missed, is perhaps incorrectly assessed, and remains under addressed following stroke! This includes gait speed. Community level gait speed within clinic testing but wearable tracking devices show significantly slower gait speeds once people leave therapy and clinical inability to accurately capture real-world cognitive functioning. Loss of automaticity has a negative impact on ease of function. 
Practice vs compensation for people who've experienced a cerebellar stroke compared with those who have a neurodegenerative disease.
Exercise programs, adaptive training at a local gym, using a pool to improve ambulation and locating a neuro therapy practice to establish a safe home exercise program, making a lifetime commitment to oneself and tracking progress.
The importance of a debrief for increasing life success following stroke. Know yourself and know your limits – take the time you need and don't be afraid to adapt the way you do things.
We hope you find value in Part 2 of our engaging conversation!
As always, we want to hear your top takeaways! Please email us at NogginsAndNeurons@gmail.com.
Questions and Comments about the podcast?
Donate to The Noggins & Neurons Podcast with Venmo or PayPal:
Venmo @neurons
Use the PayPal app (appears as Creative Concepts OT - add the note NEURONS under donation amount)
Pete's blog, book, Stronger After Stroke, and talks.
Music by scottholmesmusic.com