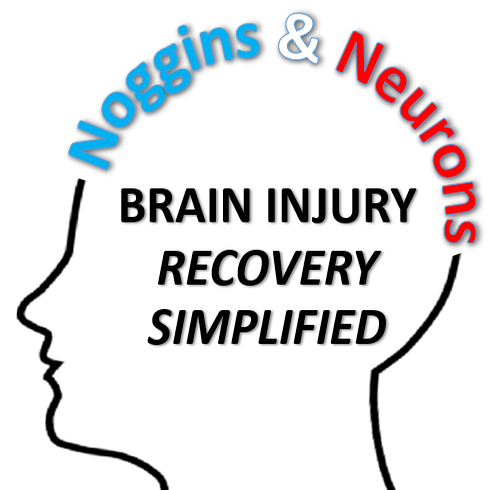 CONSTRAINT INDUCED THERAPY II
OVERVIEW: Pete: Yeah, although be forewarned that if you have questions, we may read it on the air and, uh...on the air! Are we on the air? I don't even know...
Deb: Like WKRP In Cincinnati.
Pete: Hey 'now for the big sounds of the big town where the daddy-o of the radio in a city so nice they named it twice. New York, New York.' I was communications....
Deb: You've been waiting your whole life for this opportunity!
Pete: I used to practice that...  
EPISODE SUMMARY: This episode of NOGGINS & NEURONS: Stroke and TBI Recovery Simplified is part 2 of Constraint Induced Therapy (CIT). Part 2 begins with Pete reiterating important points covered in Episode 1, including:
Commitment is required for participation in a CIT program
When NOT to wear the constraint:

when ambulating, navigating stairs, bathing/washing, toileting and driving

Review of frequently asked questions

about CIT including compliance, dropout rate; that CIT is not an easy intervention but is worth it, hand dominance, location of infarct, use in acute stroke
The conversation further evolved into:
Research on the use of CIT at the acute stage and the VECTORS trial
When it's safe to begin CIT
Using Constraint Induced Therapy during the chronic phase – plateaus, taking breaks and having a strategic recovery plan
What happens to the weaker side when the training focus is on the stronger side during the first 10 days following brain injury and why it's important to limit compensation
What happens to the brain with intense exercise during the first 7 days – what intensity looks like and examples of how to determine intensity levels
Using CIT with children
Reimbursement for modified Constraint Induced Therapy
Socialization, Groups, friendly competition and CIT
Starting a CIT program: benefits to survivors and clinics
All about lower extremity CIT, including how it's done and figuring out who it's appropriate for
This engaging conversation goes deeper into Constraint Induced Therapy. Survivors, caregivers and clinicians alike will benefit...
As always, we want to hear your top takeaways!
LINKS TO ARTICLES, BOOKS AND OTHER IMPORTANT INFORMATION:
The Brain Science Podcast with Ginger Campbell, MD.
Lee, H. J., Moon, H. I, Kim, J. S., & Yi, T. I. (2019).

Is there a dose-dependent effect of modified constraint-induced movement therapy in patients with hemiplegia?

NeuroRehabilitation (Reading, Mass.); 45 (1), 57-66. doi: 10.3233/NRE-192721
Eras-Garcia, R., Matuti, G., Carrijo, D, Lea ̃o, A., & Cruz, D. (2019). Effects of modified constraint-Induced movement therapy on post-stroke functional and occupational performance. Archives of Physical Medicine and Rehabilitation (Late Breaking Research Poster).

https://doi.org/10.1016/j.apmr.2019.10.043

Scott, S., Shade, H., Crowell, M, Lynch, M., Arpadi, L., Levine, A., Muro, A., et al. (2020). Use it or lose it? The diffusion of Constraint-Induced and Modified Constraint-Induced Therapy into OT practice.
The EXCITE trial: Large multi-site constraint induced therapy trial
Page, S.J., Levine, P., Sisto, S.A., Bond, Q., Johnston, M.V. Patients' and therapists' opinions of constraint-induced therapy. Clin Rehabil 2002; 16 (1): 55-60
Page SJ, Boe S, Levine P.

What are the "ingredients" of modified constraint-induced therapy? An evidence-based review, recipe, and recommendations

.

Restor Neurol Neurosci. 2013 Feb 8.

A journal article about the first time constraint induced therapy was tried in humans, by Lawrence Ince, MD.

Ince J. Escape and avoidance conditioning of response in the plegic arm of stroke patients; a preliminary study. Psychonom Sci 1969; 16: 49-50.
Questions and Comments about the podcast:
Pete's blog, book, Stronger After Stroke,  and  talks.
MUSIC
Music by scottholmesmusic.com