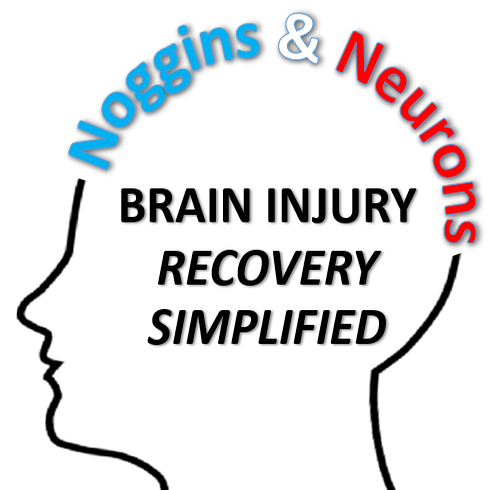 StrokEngine: A-Z Treatment Options 
Noggins And Neurons Facebook Group
DEB: Acupuncture has to do with stimulating certain trigger points along the body's meridian lines to help regulate the flow of energy or chi. They looked at this in the different phases of stroke and they found that it's not more helpful in general. So they looked at in terms of balance, cognitive function, depression, dexterity, independence a lot of other things, that it's not really effective for. But you know what it's effective for? Swallowing problems. It's effective for dysphagia.
PETE: What? Get out!
DEB: I'm not kidding you....
EPISODE SUMMARY: In this episode of NOGGINS & NEURONS: Brain Injury Recovery Simplified, Pete and Deb talk start a conversation on stroke treatments listed on the Stroke Engine website. We started the episode with a listener question about the number of repetitions needed for the brain to change and motor recovery to occur. Pete shared more research and we talked about what it means for real life recovery. We also discussed:
Growth mindset, learning and recovery
Hints about our upcoming conversation with Robert Teasell and Marcus Saikaley of the Evidence Based Review of Stroke Rehabilitation (EBRSR)
Virtual Reality for the upper extremity, the View Master and the Ramachandran Rule
Acupuncture and dysphagia, cognitive function and insomnia
Virtual Reality for the lower extremity, measuring real-time data, gait rhythmicity, the Nu Step and the Kinetron
Pete and Deb took a deep dive into these topics, looking at pros and cons of each along with next steps for clients and clinicians, including measuring change.
As always, we want to hear your top takeaways!
LINKS TO ARTICLES, BOOKS AND OTHER IMPORTANT INFORMATION:
How many repetitions does it take to drive brain changes and movement changes in folks with brain injury/ stroke?
This study showed that there were similar outcomes under three dosages of repetitive practice...
There were four groups:
Group A (the control) received 3 hours of traditional therapy consisting of passive movement, therapeutic positioning, and weight bearing on the affected limb. Throughout study the score increased ~3 points for the Fugl-Meyer.
Group B: Modified constraint induced therapy consisting of 3 hours of shaping practice per day, and a constraint on 90% of all waking hours. Throughout study the score increased ~17 points for the Fugl-Meyer.
Group C: 300: repetitions per day, 5 days per week, increases across all outcomes (FM, MAL, WMFT, etc.) started at 2 weeks and the trajectory continued throughout the study. Throughout study the score increased ~17 points for the Fugl-Meyer.
Group D: Same as Group C, but double the number of repetitions. Throughout study the score increased ~19 points for the Fugl-Meyer.
The Brain Boosting Power of the Mighty N -Back
Questions and Comments about the podcast?
Donate to The Noggins And Neurons Podcast: Venmo @neurons
Pete's blog, book, Stronger After Stroke, and talks.
Music by scottholmesmusic.com