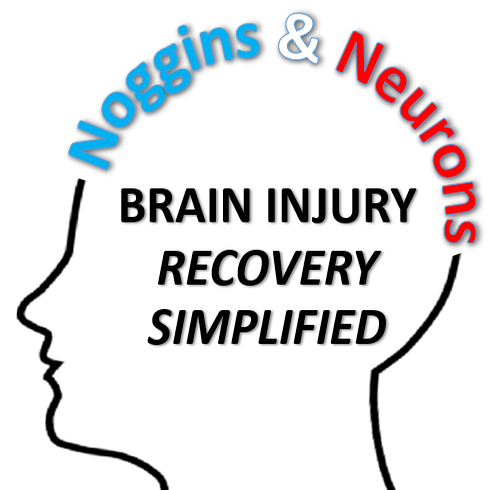 Stroke and TBI Recovery with Dr. Robert Teasell MD: Part II
Noggins And Neurons Facebook Group: CLICK HERE or scan below!
TEASELL: ...second of all, try and develop ways in which we can move things forward. You know? Not necessarily get to the you know, I say research is always about trying to get to the truth, and we're far from it and our piece, hopefully, will get us a little closer to it, but it clearly isn't going to be it. But I do think, you know, I think we all agree that we're kind of at a point where we're stuck, you know, and stroke rehab, there doesn't seem to be a lot of movement forward clinically, you know, we've gotten really good at standardized care and even that's starting to be eroded, you know what I mean, in some jurisdictions? And I think it's time for us to really think about what do we pivot to next? Right? What do we add onto that to make it better, get people excited about stroke rehab again and sort of end that erosion of funding that is occurring in some centers and encourage more funding in other centers?
EPISODE SUMMARY: This episode of NOGGINS & NEURONS: Stroke and TBI Recovery Simplified is Part II of our conversation with Dr. Robert Teasell and Marcus Saikaley of the Evidence-Based Review of Stroke Rehabilitation (EBRSR). In this episode we learn about:
Brain primers – what they are and the best ways to use them

The vast number of randomized controlled trials on brain priming interventions that work: mirror therapy (75), bilateral arm training (66), virtual reality (99), EMG biofeedback (66)

What the words can, may and may not mean when interpreting research and how these terms are used in the EBRSR
Academic training, certifications, trainings and guidelines for implementing adjunct therapies in practice
The EBRSR spinoff projects:

Spinal Cord Injury Evidence (SCIRE) – there are two components:
The spinal cord professional aspect for rehab professionals (similar to the EBRSR)
Spinal cord community – video information for patients
Evidence-Based Review of Acquired Brain Injury (ERABI) – focus on cognition, mental health and community re-integration challenges following brain injury

Less evidence available compared to stroke
Research challenges due to the cognitive deficits experienced by brain injured people
Interventions that work for stroke recovery are not always translatable to Traumatic Brain Injury – the injuries are not the same stroke lesions tend to be more focal compared with TBI
The CORE Program consists of many research projects
The future, network meta-analysis as a tool for the future. Compares multiple treatments against each other with:

direct evidence and can
estimate indirect evidence (can make estimates for comparative effectiveness of two interventions which might not be compared in the literature)

The best interventions according to the Network Meta-Analysis are....

Modified Constraint Induced Movement Therapy. Developed by yours truly, Pete Levine, and his colleague Dr. Steven Page
Functional e-stim
Theta burst stimulation
Motor imagery
Bilateral Arm Therapy

Research shows that primers work better than facilitators, but therapists seem to like facilitators more. Now it's time to start using the treatments that work.
Adjunct treatments, standardized treatments, the future and improved care
Wondering how to help therapists use the research on interventions that work to maximize recovery
85% of interventions that work are adjunct treatments we don't use very often – we need to take advantage of them, especially the cheap ones.
We hope you feel as inspired as we do after listening to this episode on interventions that work and other resources.
As always, we want to hear your top takeaways!
LINKS TO ARTICLES, BOOKS AND OTHER IMPORTANT INFORMATION:
Evidence-Based Review of Stroke Rehabilitation - 
Evidence-Based Review of Moderate-to-Severe Acquired Brain Injury - 
Spinal Cord Injury Research Evidence - 
Collaboration of Rehabilitation Research Evidence
Collaboration of Rehabilitation Research Evidence twitter
Dr. Teasell's Google Scholar Page 
Questions and Comments about the podcast?
Donate to The Noggins And Neurons Podcast with your PayPal app:
Pete's blog, book, Stronger After Stroke, and talks.
Deb's OT Resources:
REQUEST TO BE A GUEST ON NOGGINS & NEURONS. If you're passionate about stroke recovery and have information or a story you believe will help others, we'd love help you share it on the show. Complete the guest request form below and let's see if we're a good fit!   Guest Request Form
MUSIC:
"Soft Inspiration" by Scott Holmes/Scott Holmes Music/scottholmesmusic.com